Your restaurant menu functions as a greeting card, resume, and proof of concept all in one. Even if you have a hostess, your menu is often the first opportunity for many guests to discover what you're all about. The foods you use, the dishes you serve, and the colors and typefaces you choose all have an impact on everything from the atmosphere of your restaurant to how much money a client eventually spends.
On the other hand, a badly designed menu might leave guests feeling unsatisfied. That is why a solid menu is essential to your restaurant's marketing strategy. To obtain that enticing rise in earnings, You need a menu that is creative, appealing, and appropriate not only for in-person eating but also for usage on marketplace applications such as Grubhub Marketplace.
PhotoADKing is another tool for creating in-person dining menus.
PhotoAdKing, like Adobe Spark, provides a plethora of menu creator templates that you can use to create on-premise menus. Combine your logos and photographs with stock material. Here are some of our best menu design suggestions and resources to help you improve your restaurant's menu design and increase orders. Also, Make an Attractive catering menu using PhotoADKing's professional catering menu maker.
Here are some tools and resources from Restaurant Menu Maker to help you improve your menu design.
Are you ready to start creating? One of the free logo designer apps is one of the most affordable menu builder logo design tools that can help you construct your next great restaurant menu.
1. Examine the performance of your menu items.
The first step toward a more successful menu is determining what should remain and what should be eliminated. It's easy to become connected to specific menu items, particularly those that your back-of-house personnel enjoys preparing or that you enjoy eating. This examination, however, must be impartial and devoid of any personal sentiments.
2. To reduce clutter, place items on your menu in appropriate locations.
It's just as vital to consider what you're placing on your menu as it is to consider where you're putting those products. Menu design is a combination of science and art. Before making a choice, the average diner spends less than two minutes studying the menu. That implies you have 100 seconds to move their attention in the direction you wish.
3. Make your menu descriptions more appealing by using appetising adjectives.
Which of the following sounds better: A char-grilled Angus beef burger with aged cheddar and hand-cut Idaho fries, or a burger and fries?
Menu descriptions should be succinct yet thorough. If that sounds paradoxical, consider optimizing your available space. Make every word count. Longer isn't always better, but if an adjective or a product's unique name would assist sell a menu item, it's usually worth putting in your description.
To begin, focus on "yummy phrases" that are likely to make clients' tummies turn. Salads are crisp and fresh, the barbecue is sticky sweet, and smokey, and the desserts are flaky and decadent with a chocolate dripping. Consider your target audience as well; if they care about locally produced products or sustainability, use terms that connect to those topics.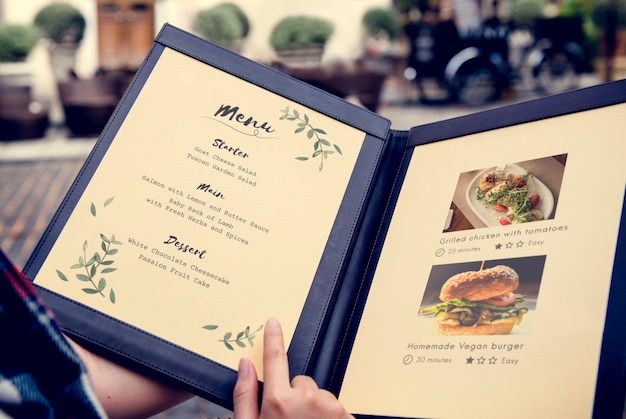 4. Adhere to menu psychology best practices.
Most menu experts believe that creating a menu that boosts sales is an art form. Diners have a propensity to read a menu in a certain order, beginning with the upper right corner. This is why steakhouses frequently showcase their expensive seafood platters here, and customers take advantage of the "sweet spot" by serving beef short rib benedicts or smoked salmon omelets. You'll get even more attention if you use a strong border and an elegant font to emphasize that high-profit item or category.
5. Reconsider how you calculate and write your price.
Restaurants of all sizes are removing the dollar sign from their menus, and it's not simply for aesthetic reasons. Diners who see menu items priced in dollars are more likely to associate that item with a strong financial link. As a result, people choose less expensive solutions. Instead, keep pricing simple by including only a numerical value between the menu description and the price.
To keep menu prices within reach of your target market, work with your wholesalers, employ seasonal menu components, and change portion sizes if you need to decrease your food costs.
6. On your restaurant's website, avoid utilising PDF menus.
Using a PDF to present your restaurant's menu inherently breaks mobile SEO best practices since it encourages users to download a file that is difficult to read on a small screen. To put it another way, it makes it more difficult for smartphone and tablet customers to view your menu and place an order.
Instead, try providing an interactive online menu, such as Grubhub Direct, that is designed exclusively for mobile consumers. Customers won't have to search for what they want, and they'll be able to purchase straight from you.
7. Include images of the menu.
The appropriate image may turn a new favorite out of a mystery meal and make comfort food fascinating again. That's why restaurants with photographs on their menus saw a 70 percent increase in online orders and a 65 percent increase in delivery and takeout orders.
Food photographers know how to photograph food in such a way that they appear irresistible. However, you don't want to go overboard with the graphics, so pick and select your spots. Save the photos for items that you really want to emphasize or that require a little more explanation.